As many of you have noticed, the template of the blog has changed. This was done out of necessity and not aesthetics since blogger somehow royally messed up my blog a while ago. Rather than sifting through the code for the previous template and try to do some patchwork (using my ninja-like HTML skills) I decided rather to ditch it and switch to a new one. This meant that I lost some of the customizations that were in the old template but I hope to have them back up eventually. For reasons that will be explained in the next paragraph, this might take some time.
Two weeks ago, I was watching the tv with my laptop on in case someone wanted to message me or something (maybe about 24). At one point, I heard a pop noise through my speakers and the laptop went dead and I couldn't turn it back on. Since I left for the west the following Tuesday, I waited until yesterday to figure what was wrong. Apparently, I fried the motherboard and my laptop is now more useless than Andy Dick's penis. I'm on the market for a new laptop - so if anyone has any suggestions or recommendations I'm more than open to them. I'm thinking of getting a refurbished one to save some coin.
On the positive side, my trip to Edmonton and Vancouver went well. I flew into Edmonton Tuesday morning. My first 24 hours were spent trying to get over a combination of being tired, being under the weather and jet-lagged so I didn't venture much outside the suite that I was put up in. I was able to work up the strength to check out West Edmonton Mall and the waterpark. It was a little awkward (or amazing?) being around a group of 14 year old girls. I got more than one suspicious stare from the girls' parents. That night I was taken out to dinner by some of the grad students at University of Alberta (two of whom I knew from my McGill days). At dinner there was another prospective grad student Gabriel from the University of Ottawa. Afterwards, a few of us crossed Whyte avenue to go to the Black Dog pub. There were a handful of other grad students there and we all sat around and shot the shit. The two pints I had at the bar did wonders as I was able to finally get a decent night rest. The next day was full of meeting with potential supervisors. Some of them were really great and were happy to see me. Others it seemed like I was imposing on them and that they really didn't want to spend the time with me. At 5 pm, I was led to one of the campus pubs where I had drinks with members of a research group. That night I flew out to Vancouver to visit the UBC campus. My general impressions of Edmonton and the University of Alberta are the following: there's a lot of money at the University (they have a $2.2 billion operating budget, with $1 million set aside to replace old furniture on campus); Edmonton is a sprawling city and every street seems to be a 3 lane highway; the people are very outdoorsy but there doesn't seem to be a lot to do in the city itself.
When my flight landed in Vancouver late on Thursday night, I was met by a man with a sign with my name on it. He led me to my ride, which ended up being a limo! Pimpalicious! As this was UBC's big recruiting weekend (there were 9 prospective grad students visiting at the time), they went all out and had a full weekend of activities planned for us. The ride to the campus was obviously a lot of fun. When I got to my suite, there was a note from my roommate for the weekend. It said that they had gone to the campus pub and that I should join them -- signed Gabriel (the University of Ottawa guy I met in Edmonton). I threw on some pit stick, changed my shirt and ventured out to find the campus bar. When I got there, Gabriel was talking to the bouncer and seemed overjoyed to see me. The two other prospective students he had gone to the bar with were Debby Downers. Neither of them drank much (Paul was Asian and thus suffered from A.D.D. - asian drinking disorder) and neither of them spoke very much. Gabriel had a few pints and called it a night around 12:30 am.
The next day, all the prospective students met in the lobby of the residence where we were staying and we were led to breakfast by a grad student at UBC. After breaking our fast, we met with the graduate coordinator, had a tour of the department and facilities and then met with potential supervisors. My impression of the faculty was that they were young and excited about their work. The facilities weren't quite as nice as those at UofA but were still very good. There was a lunch and then more meetings and then at 5 pm the fun began. Every month, the graduate students host an event called "stressbusters" where cheap drinks are had. This was combined with a free BBQ. I sat around and chatted with students and professors - all of whom were very fun and easy-going. A chugging contest was had between ADD Paul (whose face was beet red at this point) and another prospective grad student, a very large American. Luckily I'm not the wagering kind because much to my surprise Paul out-chugged the American. After this, a group of 10 grad students had a shotgunning contest. More beer was consumed and talks of where to go afterwards commenced. It was decided that we would all go to a bar in Kitsalano called the Kingshead.
The prospective grad students made the walk back to our suites in order to get cleaned up a little and inhale some medicinal products (we all suddenly came down with a case of glaucoma - must be contagious). On the walk to our suites, we got busted by the police for open alcohol but luckily made off without a fine. Eventually, we made our way to the pub. There was some awkwardness about paying for pitchers/cabs but that got settled relatively quickly. I proceeded to infiltrate a few grad student circles and was at one point singing along to "Free Falling" by Tom Petty while hugging two grad students (one of whom was this guy Augustino who has to do polymerization reactions while plummeting in a jet plane in order to simulate zero gravity). Then another grad student Tim (from Newfoundland) approached me to tell me he had heard a lot of talk about me and Gabriel. I became very excited about the idea of professors talking about these two new hotshot students. To my surprise (and slight disappointment) it was actually the girls in the department speaking about the two new hot students. I obviously wasn't thinking straight at this point. I recognized a cute girl from the research group I was interested in working with and began to chat with her. We ended up talking for a while and by the end of the night, confessions of mutual attraction were made (but nothing materialized). In possibly my sleaziest move to date, I slipped her my business card as she was leaving. After closing, a Shaggy-like student tried to lead us to a house party that was going on, but we got lost and never found it. It was rather funny seeing him run up to houses and peer into windows at 2 am.
The next morning, I was able to walk around the campus a little bit. To say it's beautiful would be a disservice. So much greenspace and natural beauty it nearly brought a tear to my eye (might have been the omnipresent drizzle though).
The view of the mountains from campus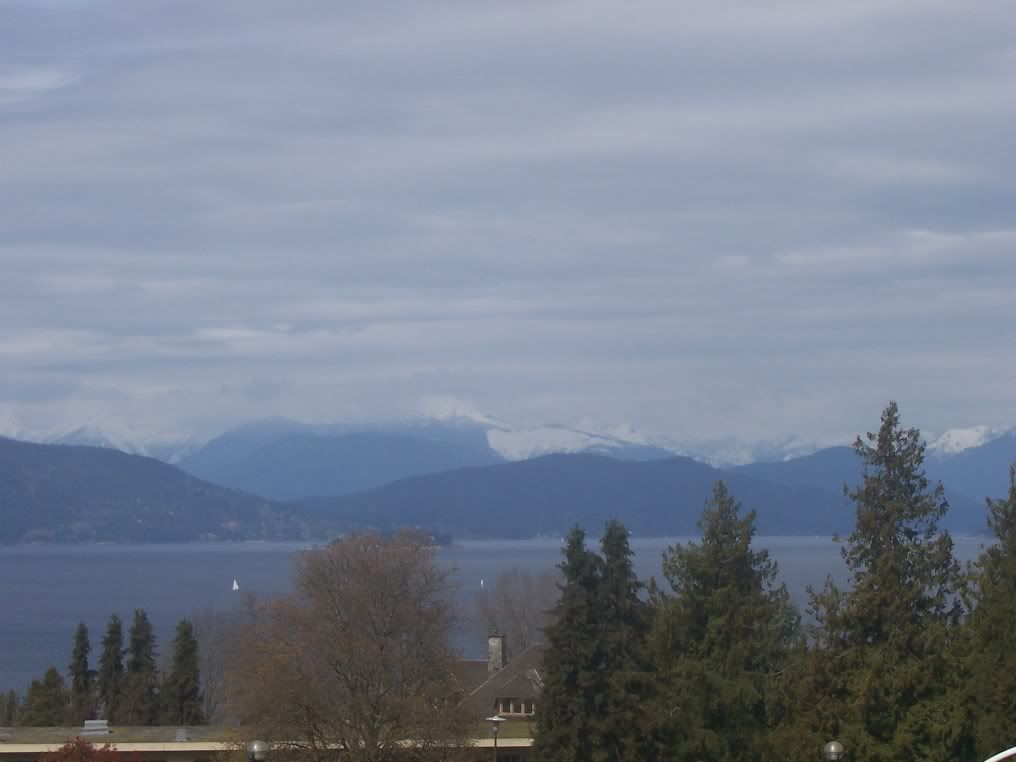 A garden on campus with a view of the mountains in the background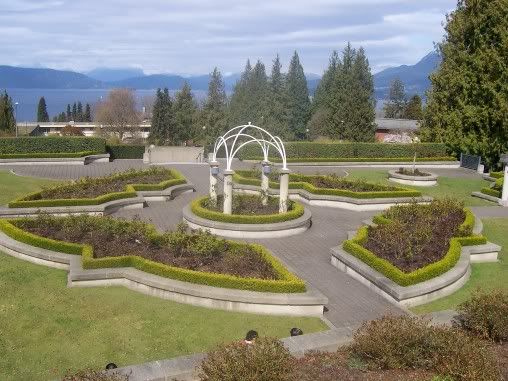 This is actually right on campus!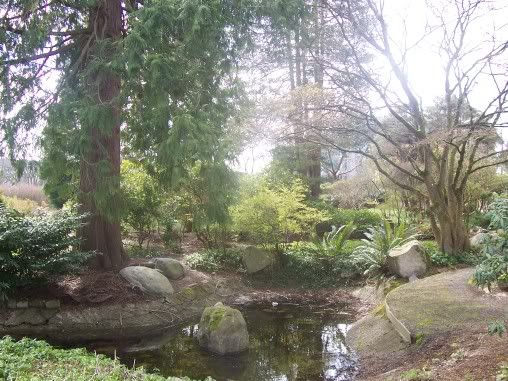 Apple blossoms just off campus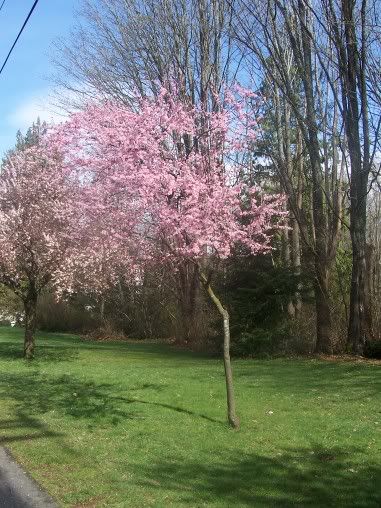 We then went to the Vancouver aquarium and got to see some big-ass Amazonian fish, a three-toed sloth and dolphin, beluga whale and sealion shows.
The beluga show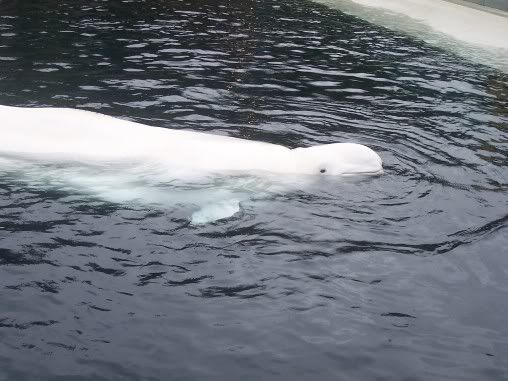 Huge Amazonian Catfish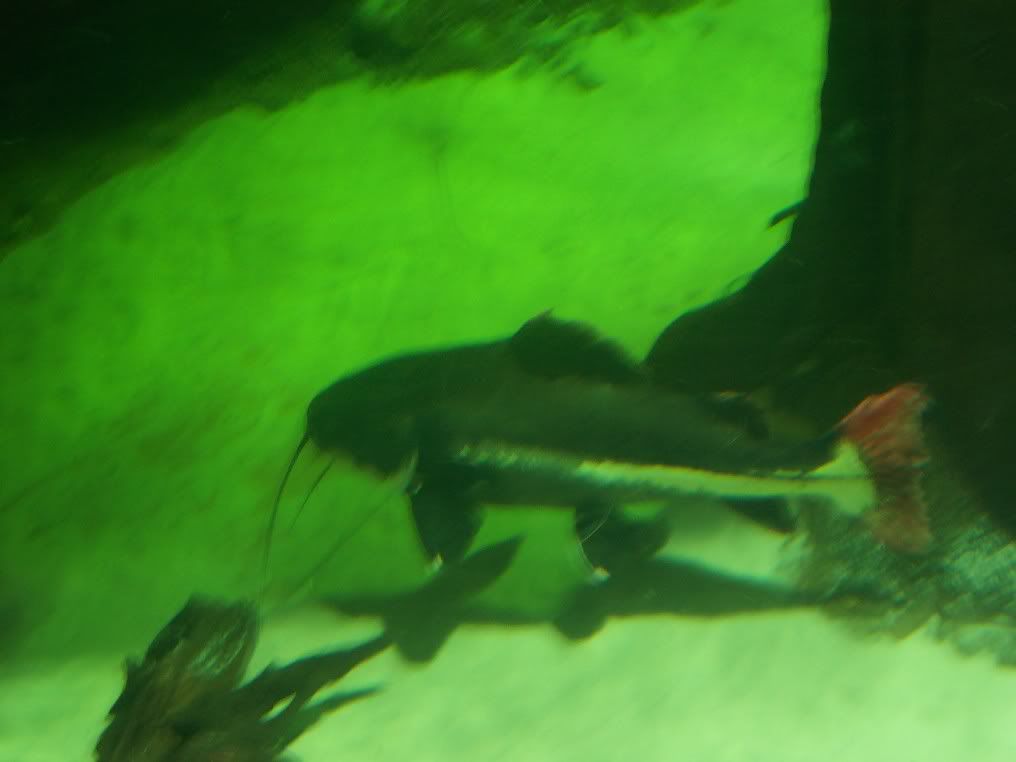 Then it was time for dinner. I made an ass out of myself by eating a red pepper in mid sentence, not being able to finish the sentence because I was coughing so much and rushing to the bathroom. After dinner, Gabriel and I made our way to a house party where we played some poker (crapped out, bought back in and then left when I made my money back).
The next day, I said goodbye to Gabriel and exchanged email addresses. He might be in Halifax in May for the Canadian Society of Chemist Conference, so I'm sure it's not the last I see of him. For the rest of the day, I walked around campus (went down to the famous Wreck beach - the nude one!) and the city.
A heron in the water just off the beach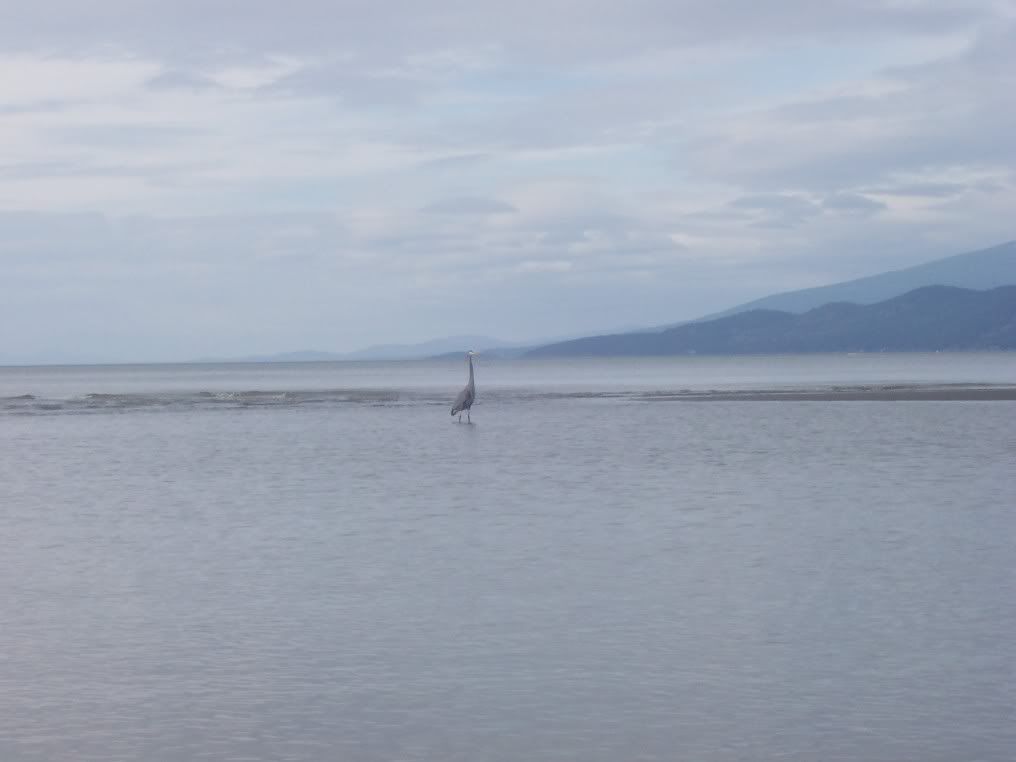 Again, everything was just beautiful. The sushi is super cheap there too.
Some more apple blossoms in the city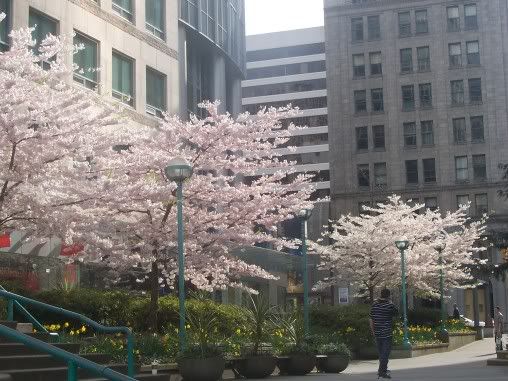 A really nice fountain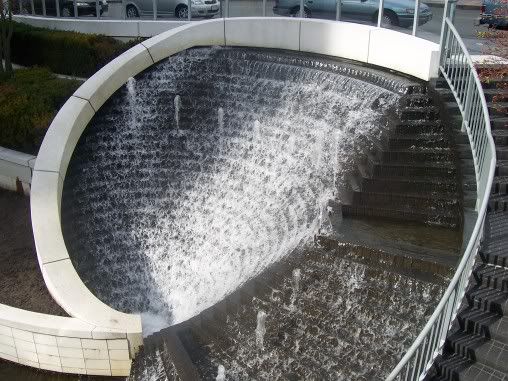 I caught the red-eye plane back to Halifax (with a short stop in Toronto). I actually really enjoyed the late flight since I was able to sleep most of the way. One note: if given the choice between flying AirCanada or WestJet, choose WestJet - the service is so much better and you get your own tv to watch. Landing in Halifax, they still had the red carpet at the arrivals for the Junos (which were the past weekend) so for the second time in a few days I felt like a rockstar. Upon making my way back to my apartment, I passed a limo in the parking lot of a nearby grocery store with the license plate C2H5OH (the chemical formula for ethanol). That seemed a fitting conclusion for my week.
By the tone of this post, it must be pretty clear that I'm 99% sure I'm going to be going to UBC. I've applied for on-campus residence and I've spoken with a potential supervisor about the possibility of working in his lab. I've been really excited about this and all I've been able to think about this past week has been UBC and living in Vancouver. I'm really hoping this works out for me.